KubeCon North America in Seattle begins on Tuesday 11th December 2018, but there are pre-activites and summits already kicking off today. The community made up of contributors, developers and end-users from all over the world are descending on the Washington State Convention Center (WSCC) for 3 days of everything Cloud Native. There will be around 8000 attendees which is a record for any KubeCon event.
If you'd like to meet me at KubeCon for a chat, a coffee or to talk about Kubernetes, ARM, Raspberry Pi, Serverless, OpenFaaS or anything else then I'd love to hear from you.
Monday
I'll be speaking to The New Stack on Open Source in the enterprise and how that can be balanced with community. If you're around and want to hang out then ping me on Twitter.
Here I am with my friends Ivan and James from the Kubernetes scene in London as we took in the sights around Seattle on Sunday evening:
December 9, 2018
After the podcast I'll be heading over to 6ABC to hear around 18 lightning talks related to Kubernetes.
Lightning talk room is epic. @CloudNativeFdn pic.twitter.com/L1O51jG3js

— Alex Ellis @KubeCon (@alexellisuk) December 11, 2018
James pictured above told me about the new kind tool like "Docker in Docker" but "Kubernetes in Docker" which allows you to run a Kubernetes container wherever you can run Docker and it's ideal for CI / integration tests.
Pretty cool to get a K8s v1.12.2 cluster going on my Intel NUC in a few moments using KinD. pic.twitter.com/LboaCwhvGz

— Alex Ellis @KubeCon (@alexellisuk) December 11, 2018
Tuesday
After the opening keynote you'll find me at the VMware booth for the next 1.5 hours along with my colleagues from the Open Source Program Office and Cloud Native Apps team. Since the VMware head-office is in Palo Alto we're expecting to have many of our product and project experts on site to chat about what's coming and what's new. Come along and ask me about how VMware contributes to Open Source and about the work I'm doing with the community and my team on OpenFaaS.
Find out about more of the VMware sessions in our blog post: The 2018 Conference Season Wraps Up with KubeCon North America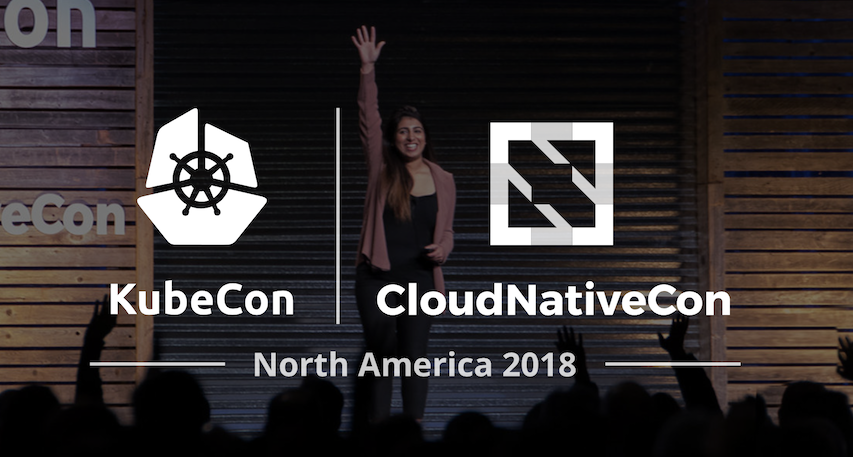 Wednesday
Let me know if you'd like to meet for a drink after the keynote or to grab some swag. I've brought t-shirts for several of you and this could be a good time for a drop-off! I'll also be at the all-attendee party at the Space Needle - so just send me a message on Slack or Twitter.
To join OpenFaaS Slack send an email to: alex@openfaas.com.
I've heard from multiple sources that various companies will be making announcements about projects, products and services over the conference. So by now we should know most of what is coming.
One thing I am excited about is Digital Ocean's new Kubernetes Engine and I wrote up my first impressions earlier last week, if you missed it or haven't been able to try it yet you can read up more below:
First look at DigitalOcean's Kubernetes Engine - https://t.co/eLmr4ighpp @digitalocean @kubernetesio #serverless

— Alex Ellis @KubeCon (@alexellisuk) December 4, 2018
Thursday
Thursday is the closing day of the conference, but if you're not heading home early then make sure you save the "best for last". I'll be speaking with Patricio Diaz from Vision Banco in Paraguay on how the bank has been able to modernize and digitize their operations through Cloud Native tooling and Serverless with OpenFaaS.
Great to be meeting with @padiazg who came all the way from Paraguay to talk about OpenFaaS in banking at #KubeCon pic.twitter.com/f8cEMBIIRu

— Alex Ellis @KubeCon (@alexellisuk) December 10, 2018
Here we are meeting in person for the first time, practising our talk over a latte. Did you know that one of the main exports of Paraguay is the Soy bean? That means your latte this morning may have been sourced from within Paraguay!
Bookmark the session in your personal schedule here: KubeCon + CloudNativeCon: Digital Transformation of Vision Banco Paraguay with Serverless Functions
I'll also be speaking to a group of analysts about the Serverless Working Group and CloudEvents which was accepted into the CNCF as a sandbox project. I'm also excited to see our working group release 0.2 of the CloudEvents spec - you can hear more at the session where we have an awesome demo showing many FaaS projects working together.
Here are the two CloudEvent sessions: the intro and the deep dive.
Connect online
Subscribe to my blog where I write about cloud native tech or on Social media below:
Add our talk to your schedule or bookmark it and see the recording after the conference: KubeCon + CloudNativeCon: Digital Transformation of Vision Banco Paraguay with Serverless Functions.